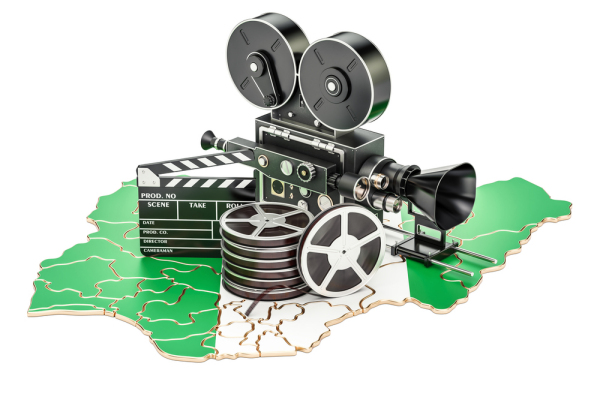 What is Nollywood?
Everybody knows Hollywood and most people have heard of Bollywood, the Indian Hindi-language film industry based in Mumbai, but who has heard of Nollywood?
Nollywood is the name of the Nigerian film industry. With about 2,500 films a year, it is the second most prolific movie industry in the world after Bollywood. Nollywood emerged in the early 1990s in the wake of a period of economic, political and social crises. At that time, Nigerians watched mainly foreign movies because there were few national films. Due to economic situation, the Nigerian government imposed a ban on imports that included foreign films. This provided creative individuals with an opportunity to fill the void. But most Nigerian filmmakers could not afford the professional filmmaking equipment of the time - celluloid was expensive - and had to use cheaper options instead, such as home video equipment and digital technology. Kenneth Nnebue is credited with making the first Nollywood film Living in Bondage in Lagos in 1992. The success of his film encouraged other filmmakers to jump on the bandwagon and start producing their own films, too.
Nigeria in West Africa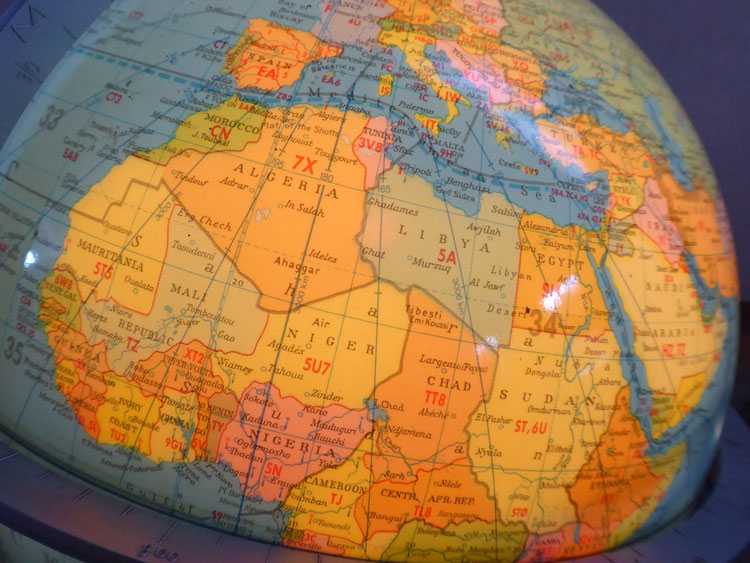 The Nigerian film industry has always been innovative. Obi Emelonye, born in 1967, is an award-winning filmmaker who has formed part of Nollywood with his company The Nollywood Factory since the early 2000. According to Obi Emelonye, this creativeness has been out of necessity, and in an interview with the BBC World Service he states: "Nollywood always had this what I consider to be self-starting resilience about it. And this because people are not making films as an elitist exercise, they are making films out of subsistence, they need to make films to survive." He describes the birth of Nollywood in the following way: "Nollywood came from nothing. It came from an industry without training, without government support, without corporate support".
Unlike the imported films shown in Nigeria, Nollywood films explored issues that reflected the reality experienced by Nigerians to which they could relate. "Unapologetically Nigerian in content, they were produced and written by Nigerians for 'ordinary Africans,' in contrast to Francophone African films that appeared to cater to European audiences" (www.britannica.com). While the movies of the early years of Nollywood were not highly skillful, the industry has remarkably professionalised since then and now produces a wide range of genres including political films, crime, fantasy, horror and comedy. Even global companies in other parts of the world have started to sit up and take notice. Just a few months ago, Netflix was planning to produce its first original series in Nigeria but had to suspend it due to the Corona virus pandemic.
Heart 2 Heart - A short film made in Nollywood
Due to the coronavirus pandemic, film production ground to a standstill worldwide in 2020. When film and TV producers had to cease their activity and cinemas closed because of the pandemic, the Nigerian film industry was also hit hard. Filmmaking usually requires close contact between crew members so that new creative formats needed to be explored to continue working under social distancing rules. Obi Emelonye showed his resourcefulness by finding a way of shooting a short film without physical proximity. He describes how he got the idea of making a film remotely: "I thought to myself, 'What if I make a film from a distance? I can direct my actors and the filming from my home, without spending a penny!'" (www.world-today-news.com)

Obi Emelonye filmed Heart 2 Heart remotely in four days in London and Lagos using the video conferencing system Zoom. The movie  features two actors and two crew members operated the mobile phones. The film, which has been well received by critics, is about two young lovers; the woman, Ada, who is played by Enobong Iyang, is in London and her future husband, played by Obioma Achufusi, is in Lagos. They cannot be united and celebrate their wedding because airlines stopped operating due to the Coronavirus epidemic and Ada cannot fly back to Nigeria.
Using Heart 2 Heart in class
Heart 2 Hearts is a great opportunity to explore some culture-related issues in the classroom for the following reasons:
Using a film that has been produced by a filmmaker inside a culture allows viewers to gain an emic or insider's view instead of an etic or outsider's perspective. 

The plot is straightforward and not difficult to understand for language learners, as Emmanuel Olabayo, a theatre and film researcher, states on Medium.com: "Straight plot. Zero conflict. Pure drama. And one that didn't leave us asking for more. These are some interesting characteristics of the short film form, one that many filmmakers are yet to fully explore in their storytelling crafts. The very simple stories make the best of shorts."
And, finally, the 8-minute-film has a length that is easily manageable for a lesson.

 
Suggested procedure
First step
Before viewing
Ask students to do the following multiple choice quiz about Nigeria.
Questions:
Nigeria is a country in
- East Africa
- Southern Africa
- West Africa
Its capital is
- Abuja
- Benin City
- Lagos
Nigeria is the Africa's largest country. It has about
- 150 million inhabitants
- 200 million inhabitants
- 250 million inhabitants
Nigeria is a country in West Africa. Its capital is Abuja. Lagos is the most populous city in the country and the African continent, as well as one of the largest metropolitan areas in the world. Nigeria has been home to several indigenous pre-colonial states and kingdoms since the second millennium BC. The modern state originated with British colonialization in the 19th century. The country became formally independent on October 1, 1960. Nigeria is Africa's largest country and has 206 million inhabitants (2021) that belong to various ethnic groups. About half of them are Muslims, who live mostly in the north, and the other half are Christians, who live mostly in the south (based on Wikipedia).
Second step
The website indicated below features various interesting demographic data and provides students with the opportunity to learn some useful demographic terms. Students can compare the demographics or statistical data on the population of Nigeria with those of their country (see also downloadable worksheet). Depending on the interests of the students, apart from demographics, they can also compare the economy and/or the geography of Nigeria  with that of another country. 
https://www.indexmundi.com/factbook/compare
After analysing the demographic statistics in small groups, students share the information and   discuss the impact of the different aspects on each country and its inhabitants. For this task, they need to be able to make comparisons in English and modify them. The following website provides information on this English language topic:  
https://learnenglish.britishcouncil.org/grammar/intermediate-to-upper-intermediate/modifying-comparisons
An alternative to IndexMundi is the website My Life Elsewhere:
https://www.mylifeelsewhere.com/
It allows you to compare the quality of life in two countries, for example Nigeria and Germany, based on some key facts.
After talking about the statistics, ask your students:
What can economic and demographic statistics tell us?
What can't we learn from these statistics?
Statistics provide us with key economic and socioeconomic indicators of a country and allow us to compare them with those of another country. This gives us an idea of how one country performs relatively to another. However, these indicators fail to give us insight into the diversity of a country because the figures are averaged out and do not take into account the various sections of the population and their living conditions based on factors such as social class, age, education and profession and rural or urban population.
More information about Nigeria can be found on the following websites:
https://en.wikipedia.org/wiki/Nigeria
https://www.britannica.com/place/Nigeria/
Current situation: https://www.worldbank.org/en/country/nigeria/overview
Third step
Ask your students: What would you expect a film about Nigeria to be about?
It is likely that students expect the film to be about an aspect Western media mainly tend to cover regarding Africa, such as emigration, poverty, starvation, violence and crime as well as politically unstable conditions and that they are probably not aware of the more positive aspects that also form part of the reality of Nigeria and other African countries. For example, Lagos is a hub for a number of increasingly successful technical startups and is considered Africa's Silicon Valley. Nigeria also has a thriving literature and children's literature scene and plays a key role in the international music scene due to its vibrant and creative Afrobeat scene, a music genre that combines different influences like West African music styles and American jazz and funk.
In addition, most non-Africans do not know that Africa is a continent with 54 countries and various subregions with very diverse populations and different cultures. Nigeria is a case in point with a population that is made up of various ethnic groups and over 500 languages that are spoken there. Many Nigerians identify more strongly with their ethnicity than with the country because its borders are not in line with the different cultures, ethnic groups and languages. English is the official language of the former British colony and Yoruba, Hausa and Igbo are the main languages of communication, but Nigerian middle-class and upper-class parents increasingly speak English with their children.
Fourth step - While viewing the film
Questions:
What problems do the lovers face?
Why are they in different places?
Why is Ada in London?
What job does her mother have?
What did you expect the film to be like?
Ada has travelled to London, where her mother lives and works probably in the health sector, to pick up her wedding dress there. Although it is only hinted at, the story also has to do with migration, which affects a lot of people around the world who are looking for a better life and opportunities or who flee from political instability, war and violence in their countries.
Fifth step - After viewing the film
Writing a film review
According to David Bordwell's book Making meaning (1989), there are four key components when making a film review: a condensed plot synopsis, background information, a set of abbreviated arguments about the film (What makes the film good or bad) and an evaluation.
Ask students to write a short film review based on the following questions:
What is the background of the film? When and how was it made?
What elements are well-made (the plot, the actors, the camera work, the mood of the film…)? Is there anything you think could have be done differently?
Would you recommend watching the film? Why (not)?

Worksheet Demographics
DemographicsCR.pdf
Adobe Acrobat Dokument
76.0 KB